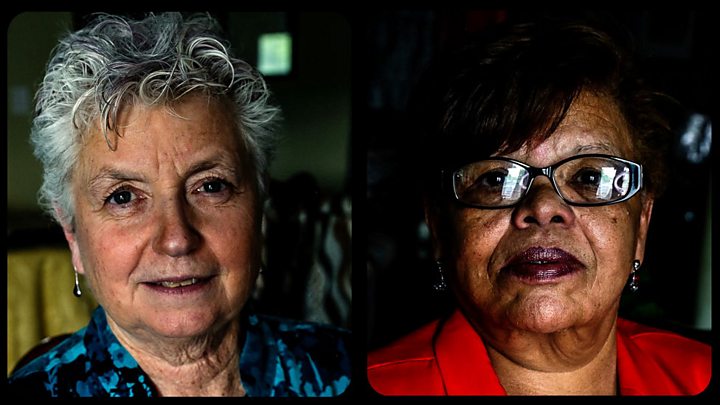 A top Republican has scotched calls to compensate US slaves' descendants, as the first congressional hearing on the issue in a decade is held.
US Senate leader Mitch McConnell said "no one currently alive was responsible for that" in reference to the historic enslavement of African Americans.
The US House of Representatives is holding a session on the grassroots campaign for slavery reparations.
Several Democratic White House hopefuls have taken up the idea.
Asked about the issue on Tuesday, Mr McConnell told reporters: "I don't think reparations for something that happened 150 years ago for whom none us currently living are responsible is a good idea."
He said that "it would be hard to figure out to who to compensate".
"We've tried to deal with our original sin of slavery by fighting a civil war, by passing landmark civil rights legislation," he added. "We elected an African-American president.
"I think we're always a work in progress in this country, but no one currently alive was responsible for that."
Mr McConnell's comments make clear that any reparations plan would not become law so long as he controls the Senate.
Senator Cory Booker, the first panel's witness and a 2020 Democratic presidential hopeful, said "the stain of slavery was not just inked in bloodshed", but in policies that have harmed African Americans for generations.
"We as a nation have yet to truly acknowledge and grapple with racism and white supremacy that tainted this country's founding and continues to persist in those deep racial disparities and inequalities today," Mr Booker said.
Should black Americans get slavery reparations?
The US students who want to pay slavery descendants
Actor Danny Glover is also expected to testify in favour of reparations on Wednesday before the judiciary subcommittee on the constitution, civil rights and civil liberties.
Republicans on the panel have called two witnesses to lay out the opposing case.
The session will examine "the legacy of the Trans-Atlantic Slave Trade, its continuing impact on the community and the path to restorative justice", according to the committee.
A conundrum for Democrats
Back in June 2014, Atlantic magazine author Ta-Nehisi Coates made what has been widely considered the most comprehensive case for reparations for black Americans. In his piece, he argued that compensation was due not just for the historic injustice of slavery, but for the discrimination and depredation, official and unwritten, the community has been subjected to in the time after emancipation.
The consequences, in housing, employment and education policies, are felt even to this day.
His arguments resonate with many on the left, who believe the US as a nation has a responsibility to right these wrongs. There has been an ongoing debate, within the Democratic presidential field and now the halls of Congress, over the way forward.
It is also a debate that is likely to fall on deaf ears for much of the country, who view the horrors of slavery as the stuff of history books. It's an issue that is easy for political opponents to dismiss or demagogue, stoking the fires of racial resentment that have smouldered in America during the Trump era.
This presents a conundrum for Democratic policymakers that is more than familiar by now. Should they try to do what many in their party believe is right – or follow the least resistant path to political success?
Making the case for reparations
The reparations debate is back
The issue – which has been debated since the US Civil War – has bubbled up in the race for next year's presidential election.
Democratic candidates such as Kamala Harris, Beto O'Rourke and Bernie Sanders have said that as president they would form a commission to study the matter.
Reparations have often been interpreted as direct financial payments to black Americans.
But one economist, William Darity, has suggested a "portfolio of reparations" beyond remittances.
He has said this could combine funding of black education and healthcare, as well as ensuring that public schools properly teach the full impact of slavery.
Among those also due to testify before the House committee on Wednesday is writer Ta-Nehisi Coates, whose 15,000-word cover story for the Atlantic magazine in 2014, The Case for Reparations, reignited the whole debate.
Before the hearing, he told the New York Times: "We can't say that things that ended 150 years ago don't matter but somehow the American Revolution does matter. Either the past matters or it doesn't."
The hearing is being held on Juneteenth, which commemorates 19 June 1865 when Texan slaves finally learned they were free, two-and-a-half years after President Abraham Lincoln's Emancipation Proclamation.
Credit: Source link